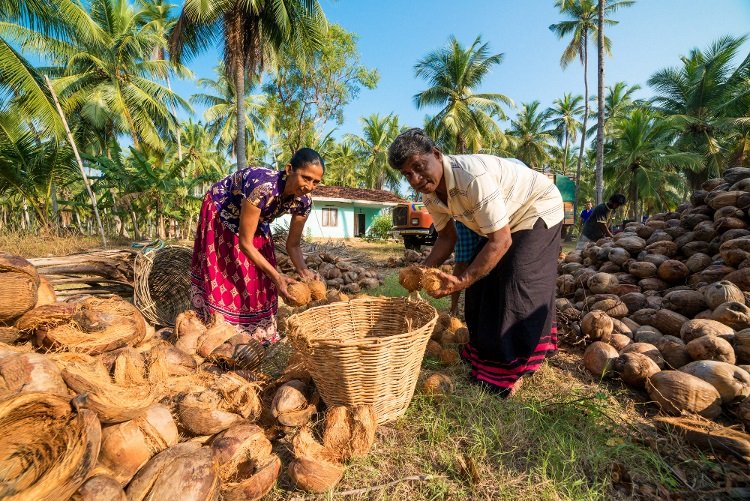 We own and manage over 670 acres of organic coconut estates in the Coconut Triangle of Sri Lanka, and have registered over 4,000 acres of organic coconut estates as suppliers to our factory. The Coconut Triangle is composed of several small villages that have vast lands dedicated to the farming and production of coconuts. The communities of many of these villages have been growing coconuts as a livelihood for many years and, over the years, have struggled to keep up with the growing pace of the industry.
This is where we come in. We want to see our community grow, as we grow. We work directly with our farmers to ensure that no harmful practices are incorporated in the farming process, in order to harvest fresh, organic coconuts. In return, our farmers receive important training in important skills and earn fair wages for their supply.
Empowerting the Community
We currently employ 130 staff members at our factory in Dankotuwa. From cleaning to cold pressing to packaging, our staff has been trained to adhere to the highest standards of production and pay attention to the smallest details. Many of our staff belong to the communities that reside in the villages around our factory.
Corporate Social Responsibility
As a Responsible compnay we always work with CSR projects. Some of the CSR projects done by Coco House are :
Donation of Computer Lab & Facilities to St. Joseph Vaz Primary School in 2005 Three Million SLR, Brand new, fully computerized room, compromising of 41 state of the art machines & multimedia, bestowed to, the Catholic, St. Joseph Vaz Primary School, in the trusteeship of the School Principal and Chilaw Bishop Rev. Frank Marcus.
2006 Mini developments, housing for the rural community, contributions to children's orphanages
and collective rural community activities.Building and developing of rural commune buildings for the public of Chilaw.
Construction of Art Auditorium for St. Anthony's Church in 2010 Completion of a brand new, state of the art auditorium for performing arts and seminars at the St Anthony's church.